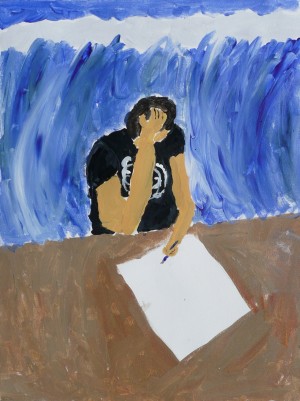 Hat's off to moms, to Andy most of all.
What am I, as a man, to say?
Perhaps only that I love the world, I love my wife, I love my family; that I love all our collective children and also our world and the trees and animals and insects.  That I love the wind and the honeyed light that falls upon wood in the lovely bittersweet melancholy of the afternoon.
That I love you, known and not quite known, who come across these words, and those who never come here but whose words and actions, perhaps thoughts and feelings, affect me at myriad levels as we awaken together into an ancient, not new, consciousness.
Let's work together, let's play together, let's eat and nourish each other together.  Let's support new moms wherever we find them, perhaps with ideas (but rarely are ideas needed by new moms) but more likely with a casserole, some help with the dishes or the laundry, the things that mean that I should be writing less and doing more as we go forward together.
If you are struggling to be your best Self as a parent and I can be of assistance to you in this regard that would be my honor.  But let us not depend upon problems to connect, to enjoy life and to find fellowship in our mutual love for the world and all its collective children.
So I want to end my blogging year with a tribute to my wife, Andy, without whom I am neither a psychologist, nor a writer, nor a parent, nor a true mensch.  She is my hero, but with her, together in love, I hope to find my way to be included in a world that is poised to become more compassionate, less egotistical, less bossy and controlling and more good-of-the-group without obliterating differences and the unique aspects that make each of us distinct and wonderful, but which, in turn, allow us to come together in a different sort of consciousness:  that of earthy, pragmatic, generous and authentic love and compassion.
Let's make this our Truth, for who can stop us from loving each other, the world and all its "children?"
Namaste