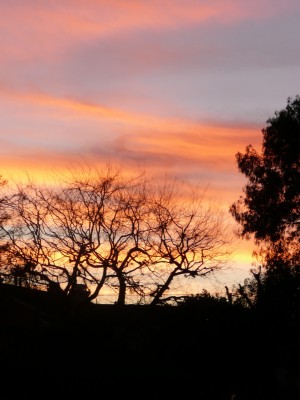 Welcome to 2012—as we slog through our potential post-holidays blues, here's to hoping we can make it a Happy New Year for all of us, one with a little less work and worry and a little more fun and hanging out.
Given whatever clouds of Mayan Calendar mystical mumbo jumbo this year may come in trailing, perhaps it serves us to get back to basics:  Basic Trust.
"Basic Trust" is what Erik Erikson, an esteemed and influential developmental psychologist framed as the very first psychological/emotional stage of life.  In the first year of life, Erikson believed, an infant develops either trust—the trust that caregivers will respond, soothe, feed, protect and love—or, more sadly, mistrust (and then the rest of life sort of sucks).
Basic Trust is the foundation of hope, of positive expectations, of the capacity to give love.  Obviously, we want to instill this in our children (and we shall talk more about how we might work together to do this in coming weeks), but we also want to get this basic trust thing going for ourselves.  Erikson had enough basic trust to become a professor at Harvard, Yale and Berkley without himself earning even a BA degree.
While we may ourselves be trailing wounds and trauma owing to stumbles along our own first step by virtue of wounded caregivers during our infancy, thanks to the ingenuity and plasticity of our brains and our hearts, if we cultivate loving kindness and consciousness we can achieve more than a modicum of basic trust (and we shall talk more about how we might pull this off too, in weeks to come).
The Buddha suggests that enlightenment is to be found when we relinquish fear and desire.  We've been focusing on fear this past year, the opposite of basic trust.  Next up after stage one comes the second:  initiative vs. guilt (i.e. are we paralyzed by our fearful mistrust, or are we ready to play with the toys and explore the sandbox?).
So, while we will try to cultivate basic trust for our kids (and ourselves), we parents can also drop our guilt and fear-based inhibition and turn toward taking loving initiative.  But before we can relinquish desire, perhaps we have to first have a little desire (even if it is desire to feel safer, more creative, more self-expressed, more connected, etc.) pulsing in our enlivened hearts?
While I may idealize Mary Poppins and Atticus Finch as iconic parenting heroes, I would also like to nominate a parenting mascot for 2012:  the honey badger.  And I'll tell you why:  Honey Badger Don't Care.
If you haven't seen what's up with honey badger, click here to join 30 million folks who already know just what time it is by some abstruse virtual viral maybe Mayan Calendar.
Honey badger is a bit like that cheesy trope at the zoo where it says:  "The Most Dangerous Animal on Earth," but you're looking into a mirror.
The honey badger is half a Buddha:  honey badger has relinquished fear (or never drank from that cup in the first place, having been given basic trust by mama honey badger) yet it has not relinquished basic earthy desire—particularly for food, and who can't relate to that?
We are wired for love as parents, to be giving and loving, and are then asked to suffer the slings and arrows of tantrums, melt-downs, attitude, rejection, demands, and the like.  Just as sports teams need intrepid mascots, parenting needs the honey badger.
So, while none of us is any super-parent, playing on the same team together in mind and spirit we might invoke the honey badger as our patron saint of snark and perseverance lest in our over-earnestness we die of sanctimonious saccharine crunchiness.
"Namaste" means "the light in me recognizes the light in you" and I've been seeking a way of saying as well "the darkness in me recognizes the darkness in you."  Perhaps "HBDC" (Honey Badger Don't Care) is just the meme we've been looking for?
"Randall," the gifted narrator of Crazy Nastyass Honey Badger has landed a book deal, and this seems to track perfectly with the Mayan Calendar's predictions.  So, let's fasten our seat belts, it's going to be… some sort of year or other—why not make it kinda fun?
HBDC, BD
BTW Support your local bookseller:  yours truly's book, Privilege of Parenting, is now to be found at a very cool bookstore in Brentwood:  Diesel Books (225 26th Street).  Am I shamelessly self-promoting?  HBDC