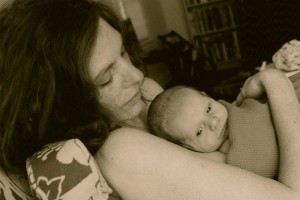 In the first year of life children develop either basic trust or mistrust, secure attachment or more problematic attachment.  The implication of this ripples through every child's life, and through the society in which he or she lives.
Research points to several things that impair this process.  The ACE (adverse childhood effects) study established a strong correlation between kids being exposed to abuse, neglect, and family dysfunction and decades later development of diseases such as diabetes and heart disease.  In addition to being tragic for individuals, this is very expensive for our society where we spend most of our healthcare dollars on end-of-life issues while spending more on beginning-of-life, particularly in supporting parents to be able to facilitate secure attachment and basic trust to children might pay off big for all of us.
Another factor that strongly correlates with so-called "disorganized attachment" (a propensity to become highly distressed and chaotic under certain stressors) in a child turns out to be the presence of unresolved trauma in the child's caregiver(s).
Mistrust and disrupted attachment are highly correlated with problematic parents, and in turn are also strongly correlated with myriad later problems from anti-social behavior, low-self-esteem, under-achieving, higher rates of incarceration (partly owing to poor impulse control and impaired abilities to manage stress, anger and frustration), and poorer health outcomes.
While poverty certainly increases the chance of a child having several ACEs, many advantaged parents also have unresolved trauma, and thus their children are at risk for disorganized attachment.
While the last thing I would suggest is that we wait around for the government to fix this in some enlightened dream of longer maternity (and paternity) leaves and free screening and treatment for trauma in pregnant women and their partners, it would certainly be nice to wake up to find our world transformed in this direction.
Meanwhile, what we can do is to be aware of the central importance of basic trust and secure attachment for the social, emotional and physical welfare of children—and we can bring this consciousness to bear when our lives intersect with new moms and newborns.   By the one or two degrees of separation game, we are probably indirectly effecting more newborns and new moms than we might realize, thus practicing compassion and loving-kindness is always a good way to roll (never knowing when a simple act of compassion may trickle to a child unknown and unseen).
But more directly, when we show up with a meal for a new mom, or do the reach-out to see how a new family down the block, or across the country, is faring we are doing more than just being nice friends and neighbors—we are subtly participating in the formation of basic trust and secure attachment.
Although we have big social programs such as Head Start, and Early Head Start (started in 1994) which are on the case, and research is being done and programs being run, there is a lack of sweeping societal awareness of the importance of basic trust and secure attachment (perhaps due in part to imagining that it is a problem of the poor, when the rich are often equally at sea with regard to these essential principles and practices—a condition our society reflects from Washington to Hollywood to Wall Street).  There is also scant awareness of the vast potential positive impacts of increases in secure babies as they grow up, from the nation saving money on illness and criminal justice/incarceration to improving academic prospects for kids and the possibility of new advances and technologies to naturally improving our relationship to, and record on, the environment (i.e. truly secure people are likely to be less selfish, and thus less inclined to pollute and disregard the good of the group and of the planet).
In a research study, maids who were informed about how many calories cleaning rooms in a hotel burns up lost weight and had lowered blood pressure while a parallel group of maids working just as hard but without this consciousness did not lose weight nor have decreased blood pressure.  Perhaps we need to embrace compassionate action and illuminated consciousness in order to affect a sea change in basic trust and secure attachment?
Our time is ripe and ready for massive change, not from above, but from below.  A key may be conscious awareness of these issues and the benefits of making things safe and secure for all our collective children right out of the gate.