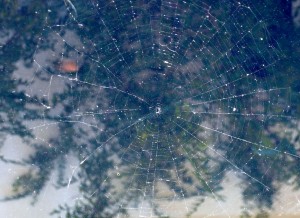 New research on ten to fourteen year old children who have been in homes with abuse, but who show no outward signs of trouble, reveals that their brains are extra-activated in the same regions as soldiers who have been in combat.
While on the surface it is obvious that we do not want any children traumatized by abuse, it is equally obvious that the world has yet to end the cycle of abuse.  Meanwhile, this research got me thinking about repetition compulsions… how we tend to recreate traumatic situations in an unconscious attempt to heal the original wounds.
But the bad stuff generally just keeps being bad and painful (think of the woman who keeps attracting alcoholic men)… unless consciousness can be introduced into the cycle, potentially freeing a person from his or her past.
Thus I wonder if abuse-exposed brains grow up with a need to heal trauma that resembles war?  Perhaps it's these very folks who take to gangs and armies like ducks to water?  Maybe they are unconsciously trying to re-evoke feelings of dread, terror, horror and rage experienced in the unremembered past?
But since there's no winning in war (even the surviving "victor" is in no great mental shape after what they've seen and done) we end up with repeatedly abused and traumatized humans trying to re-integrate into a society that has failed to protect them from abuse in the first (i.e. childhood) instance and from the horror of war (or the horrors of street violence, etc.) in the second instance.
Trying to help traumatized soldiers heal is a very steep climb, probably owing to the roots of trauma deep in their wiring, and the politics behind denying that soldiers are damaged by war adds insult to injury.
So, again, I make the quiet bloggy backwaters case for much more in the way of early intervention—to protect children from abuse in the first instance means putting money, time, resources and consciousness toward supporting parents, many of whom themselves come from experiences of abuse.
Parents don't set out to abuse kids; rather they lose it and, when triggered, are probably showing the same sort of brain problems as their children are subsequently developing.  It is better to identify at-risk parents and support them with love and therapy than to police them after they've abused their kids.
It's great to have brain scans to "prove" what any sane person could intuit:  it's damaging to yell at children; it's damaging to hit children; it's damaging to frighten children.  Yet the scientists are very careful, and they say that this is not necessarily damage to the brain but just adaptation.  This seems to be a way of not rocking a global social boat that is sinking rather than rocking.  And in the end it's not only the children, shamed parents and wounded warriors who suffer, but all of us—unless we realize that we are the group and that this is no way to treat people.
In order to break the cycle perhaps it would help to re-frame those who resist social welfare programs as themselves fearful of being ripped off and drowned by "big government."  It would be better if this were not a government program but a grassroots awakening of consciousness.
When we are clear about what we, as a culture need:  better support for parents and kids in the beginning, then perhaps Head Start and Early Start will evolve into Start at the Beginning, and with real love, free of shame, blame and acrimony.
This is not rocket-science, this is common sense and human compassion:  help those who need it, particularly orphans (psychological and literal) and widows (again, literal as well as metaphorical, a.k.a. single parents).
Sorry if this sounds like a rant, but I really cannot understand why our culture, for all its talk, does not seem to give a rat's ass about its children.  Please correct me and make me wrong.
Kids are not born to the left or the right, they are born ready to attach, grow, love and learn.  It's on us not to take that away from any of them.