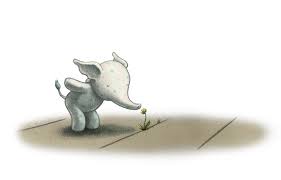 Of all the imaginary juice joints in the wide world of the child's mind, it had to be Elliot, Little Elliot who walked into Bemelmans Bar at the Carlyle where I was sitting with my legs dangling from a booster seat, trading "what time is it?" jokes with Madeline.  Ferdinand was drowsing over a flower as Curious George floated above our kiddie table holding onto his balloons, one of which carried Babar himself, dapper in his green suit.
Some writers haunt the Algonquin, others the White Horse, but new dad on the kid lit block, Mike Curato, knows exactly what time it is:  bedtime, when Truth be told so quietly that only the very young and rather old can hear the wind blowin' in the willows as sweet heads sink into lovingly fluffed pillows.
Ferdinand's dad, Munro Leaf, said, "Early on in my writing career I realized that if one found some truths worth telling they should be told to the young in terms that were understandable to them."  Amen.
Follow the little polka dotted elephant into, "Little Eliot, Big City," (especially if you have ever felt unnoticed, which is for whom this tale tolls).  Elliot says that there will be other stories coming, but for now I can assure you that Ferdinand has sniffed Elliot's tail and found that tulip to his liking.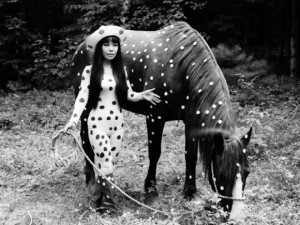 With drawings numinous with fairy dusted brush-strokes indebted to eternal masters, homages drift like cherry blossom petals and post-modern tropes rise like Leaf Men in an hour of need to sound the call for friendship, punctuated with Yayoi polka dots.
Grown-ups may trudge on in the grim business of forgetting where they came from, getting on planes and saving the world, but in a little corner of a juice joint it's always circle time and that time is neither the beginning nor the ending of a beautiful friendship for the very most beautiful friendships are eternal.  Elliot just may be staying indefinitely.