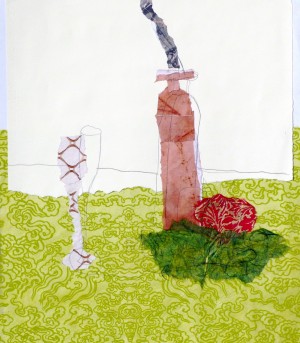 I've been thinking about how exactly, we might help our world be a better place, and one thing I keep coming back to would be helping babies be secure, particularly by helping new moms to feel loved, safe, supported and secure—perhaps bringing casseroles (rather than books) to new moms.
When I started to think about big social change, my wife suggested I start by bringing one casserole for one new mom, pragmatic wisdom.
Now maybe I'm a little OCD, but I had to wonder:  What would be the quintessential casserole (or other dish) to bring to a new mom, if one was hoping to bring love and comfort, to bring the spirit of the village, something magical or at least deeply nourishing to hedge against post-partum depression, despair, sleep deprivation and the overwhelming need for mother-love as one is tasked, particularly for the first time, with the care of a newly arrived human being (or perhaps even a puppy)?
For this alchemical question I turned to Dana Talusani, a.k.a. The Kitchen Witch, whose recipes for everything from transformative food to trenchant, piercing and vivifying story-telling are always peppered with her authentic keepin'-it-real world view and a perfect dash of snark to balance her core sweetness.  KW always keep me coming back for more.
So, KW, what would you suggest we cook up for the mom of a newborn?
*
Truth is, new moms don't want casseroles. I am adamantly against casseroles for new mothers and grieving widows, because that's what everyone brings. They mean well, but casseroles reek of pity.  And all well-meaning neighbors bring a variation of two casseroles 1) chicken, soup, rice/noodle, broccoli or 2) pasta, marinara, cheese, meat/mushroom.
Ever had a whole refrigerator and freezer full of the same benevolent casseroles? It's depressing as Hell.
I propose a big pot of lentil/beef soup or something out of the ordinary that re-heats well, like Coq au Vin.  I always bring Beef Bourgignonne or Coq au Vin to new mamas or the sick or the grieving.  Although if someone's really in a bad way, I'll make my Gramma Rhetta's over-the-top-rich Chicken a'la king, as it's the one thing I really want when I'm in the weeds. Bad for the ass, but good if you're only eating tiny bits at a time.

*
Now even though I, at PoP, have been a bit "in the weeds" myself these January post Holiday bluesy days, "Gramma Rhetta's over-the-top-rich Chicken a'la king" must be begged for at KW's proper alchemical home (bad for the ass?  HBDC, and I'll be first in line to make it when she unveils it.  Soooon, please, KW).
Meanwhile, Dana has selected the following two recipes for us.  I invite any reader who cares to step up and make them, with extra love thrown in for good measure, to share them with anyone you love, perhaps a new mom if you have one handy.
*
Lentil and Beef Soup
serves 6
slightly adapted from Giada De Laurentis
2 tablespoons olive oil
1 1/2 pounds boneless beef chuck, cut into 1-inch cubes
salt and pepper
3 celery stalks, chopped
2 carrots, peeled and chopped
1 large onion, peeled and diced
6 garlic cloves, peeled and chopped/crushed
2 sprigs fresh rosemary
2 sprigs fresh thyme
6 (14-ounce) containers beef broth, preferably low sodium
1 (24-ounce) diced tomatoes in juice
2 cups brown lentils, rinsed
1/2 cup chopped fresh parsley
grated Parmesan cheese, to garnish
In a heavy large stockpot, heat the olive oil on medium-high flame. Season the beef with salt and pepper. Add half of the beef to the pot and brown on all sides, about 8-10 minutes. Remove with a slotted spoon, set aside and repeat procedure with remaining beef. Remove all beef from pan. Add celery, carrot, onion, garlic, rosemary, and thyme to the pot. Cook until vegetables are softened, about 5-7 minutes. Add the beef (and any accumulated juices) back to the stockpot and pour in the beef broth and tomatoes/juice.
Bring soup to a boil. Reduce the heat to a simmer, cover the pot, and simmer until the meat is just tender, stirring occasionally. This will take 1 to 1 1/2 hours. Add the lentils, stir and continue simmering, covered, until lentils are tender, about 40 minutes.
Remove rosemary and thyme sprigs, taste the soup and adjust salt/pepper to taste.
Serve in large bowls sprinkled with parsley and Parmesan.
***
Healthier Coq au Vin
serves 6
adapted from Everyday Food
3 fresh thyme sprigs
5 fresh parsley sprigs
1 bay leaf
3 slices center-cut bacon, cut into 1/2 inch dice
olive oil, as necessary
4 pounds (about 12) bone-in, skinless chicken thighs
salt and pepper
1 chopped onion
4 large carrots, cut into 1/2-inch pieces
2 garlic cloves, crushed
2 tablespoons tomato paste
3 tablespoons flour
1 1/2 cups dry red wine (Pinot Noir or Burgundy work well)
1 (14-oz) can chicken broth
1/3 cup chopped flat-leaf parsley, to garnish
Mashed Potatoes, Egg Noodles or Crusty Bread
With kitchen twine, make a bouquet garni–tie the thyme, parsley and bay leaf together in a small bundle.
Heat a large stockpot or Dutch oven over medium heat. Add bacon and cook until browned and crisp, 5-10 minutes, stirring often. Remove bacon but leave drippings in pot.
Crank heat to medium high. Season chicken thighs well with salt and pepper. Working in batches (3 batches, unless thighs are very small…you don't want to crowd them), brown chicken on each side, about 4 minutes per side. If necessary, add olive oil between batches if the pan seems dry.  After each batch, set browned chicken on a plate.
To the drippings left in the pot, add the onion, carrots and garlic. Cook 3-4 minutes. Add in tomato paste and flour and stir vigorously, scraping any browned bits off the bottom of the pan.
Add wine, chicken broth, browned chicken thighs and herb bundle. Bring to a boil.
Cover pot and reduce to a simmer. Cook 10-15 minutes. Uncover pot and simmer until chicken is cooked through, 10-15 minutes.
Remove chicken and let the sauce simmer another 5 minutes or until a bit thickened. Add chicken back to pot, remove herb bundle, and stir in crisped bacon.
Top with freshly chopped parsley and serve with mashed potatoes, egg noodles, or crusty bread to soak up the sauce.
*
So, thank you KW for stepping up with great culinary counsel.  And for any who dare to try and risk failure, rejection and generally falling short in the kitchen (and everywhere else), the very willingness to fail and try again is both the essence of actual learning and a sure invitation to join us in good-enough parenting, cooking and loving.
And so what if we suck?  HBDC
If you do attempt to bring practical and pragmatic love to anyone, new moms in particular, by riding on the vapors of KW's magic, feel free to report in here, or over at KW, and share the love virtually.
Now, in the words of neither-my-uncle, nor anyone at Kitchen Witch Stadium: Soyons de cuisine!