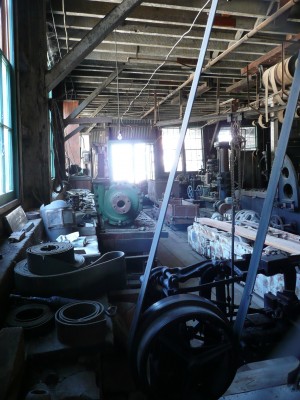 We're all busy.  I'll try to be brief.  I'll fail.  Thanks for reading.  Thanks for caring.
The comments last week in response to my post about Invisible Children reaffirmed my own sense that awareness is important and useful in fomenting social change and co-creating a more compassionate world.
Last week a Goldman Sachs executive resigned in protest about his company's practices.  The New York Times mentioned that he was not a highly paid worker, at $500,000 per year, by Wall Street Standards.
Last week the man who made the documentary gone viral about Invisible Children ran half-naked in the street cursing at traffic, "an unfortunate incident" suggested the head of Invisible Children, the result of a "severe emotional toll," perhaps the sort of emotional toll that finds gifted painters lopping off their own ears and tossing them to toll booth collectors on the road to collective change.
Last week Ira Glass and This American Life focused on Mr. Daisey who turned out to be lying about conditions at Apple's suppliers in China in his previous interview on that same show (and in numerous other appearances as well as in his theatrical monologues).  The radio retraction show was as much about betrayal and self-delusion as it was about "truth," which Ira Glass sees in a fact-checked, vetted and socially agreed upon sense while Daisey sees it in a theatrical, perhaps self-promoting, perhaps justice-promoting and awareness-raising sense.
This American Life's retraction of story culminated with a review of the "actual facts" per solid NY Times reportage, which left us, the listener, right along with Ira Glass, wondering, "Should we feel bad?" (about having Apple products that could be had, either at a higher cost to us, or at a lesser profit to Apple).  Thus I found myself asking, "Do I feel bad?"
What I feel is inspired.  Inspired by the words of that NY Times journalist, Charles Duhigg, who suggested that we could demand better conditions for workers in other countries, pointing out that we are not merely beneficiaries of those who toil in terrible working conditions, we are the reason that human beings in other countries toil in terrible working conditions.  By creating laws in America that prevent the sort of conditions that Upton Sinclair exposed in The Jungle, but in falling short of demanding equal justice for our fellows beyond the borders of our now-relatively-advantaged country, we have effectively exported injustice and inhumanity.
When it comes to facts, monologues, emotional tolls and social awareness I think of 80's New York and going to see Spalding Gray do his electrifying and brilliant monologues in little spaces in Soho before it was today's Soho.  Swimming to Cambodia and, later, drowned in the East River, Gray succumbed.  Suicide.  Where is the love for those who care so much that they go mad?  And where is the love for those who hurt so bad they go bad?  Might we not intervene upstream in the river of consciousness and avert the suffering borne of lack of consciousness, which leads to lack of community and lack of compassion?
Ira Glass suggested that if you say something happened then he, in turn, trusts that it happened.  I like Ira Glass.  He's a trusting and smart man; his voice rings kind.  If it's not factually true then Ira suggests truth in labeling.
The consciousness we seem to be missing at a collective level is that while there may not be any objective "truth," we are essentially one collective consciousness that is wiring up into a realization that it is one unified global heart-mind.  We have thus historically wrestled, Hamlet-like, with all sorts of pairs of opposites (God/no-God; good/evil; greed/generosity; reason/emotion; thinking/feeling; truth/lie, etc.).
To individuate (i.e. be a distinct reasonably complete being) AND to participate fully in the group (i.e. to care for, and find one's full identity in, the family, tribe, country, planet) is to cultivate a trans-personal, empathic and loving consciousness that spans the duality of self-other and bridges it into an identity which is self AND other(s).
The Goldman exex's assertions that things have gotten really bad in his twelve years at that bank brought to mind a personal recollection:  Times were lean on Wall Street at Christmas of 1987, but the present I found on the swivel chair in my cubicle as a temp secretary in Mergers & Acquisitions at Merrill Lynch Capital Markets just about summed it all up:  a tiny cactus that I was, apparently, invited to sit on.
Were these bankers with names like James Mason and Mr. Quackenbush pirates in Hermes ties?  Were they practitioners of Darwinian superiority with their homes in Connecticut and on Park Avenue?  Perhaps.  But perhaps in them I met my own greedy, frightened self in those corner offices amongst the Lucite trophies celebrating billion dollar deals; perhaps now I might see more clearly just how hollow-man-poor that particular Shadow self was despite all that greed-is-good money it bathed in; perhaps I might also see how blessed my relatively more modestly paid self has been, for I am lucky in love and I'm blessed to care, to not be famous and to, so far, have not gone mad.
Perhaps we can share that soft-hearted love that sees our world, and each other, as One.
I'm not at all convinced that banking, or depravity, or abuse of children, or materialism has grown so much worse in the last twenty-five years.  Maybe we've all grown collectively more aware that in Monopoly not everyone gets Boardwalk and Park Place.  In the Great Depression we plebes were happy to play Monopoly, thinking we too could be rich, even if only in our minds for an ephemeral evening, softened by the knowledge that everyone who "lost" was merely disgruntled rather than actually ruined; in the here and now of our current consciousness where global Monopoly is growing stale, bitter and oh so clearly debauched we have an opportunity to re-think the game we are eternally playing.
In "reality" it does appear that workers in China toil miserably at 60 plus hour weeks, sleep packed into tiny rooms and occasionally die in explosions that are easily prevented by way of things like ventilation… if only Apple and its international fellow-corporations are willing to make just a little less money, or if we are willing to pay just a little more money (and I, for one, would pay more, or buy someone else's less cool but blood-free product) we could do all sorts of good things in this world, including taking better care of all our collective children.