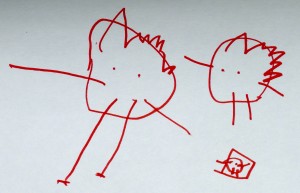 "I'm killing you," she says.  "That doesn't sound good," I reply.  "It's for the best," assures the producer.
It's Tuesday and I'm sitting in the green room at the television studio where I've been half watching a low-speed chase for half an hour.  The helicopter cam continues to observe a host of police cars languidly following a tow-truck all over Los Angeles.
I keep thinking of Richard Scarry's Busy, Busy Town… on tranquilizers.  "Maybe they'll find Goldbug," I muse to myself almost hypnotized.
I had been thinking about this day for a week, thinking about it a lot, to be perfectly honest.  I had been invited to go on television and talk about Privilege of Parenting, and so I had thought and thought about what I should say, and about whether or not I would sweat like Albert Brooks in Broadcast News or have a panic attack, or maybe suddenly vomit as one of my kids had once done on the "fun" camera at Bright Child.
The universe is an interesting place, given that I'd been recently writing all about my introversion when the chance to "accelerate toward embarrassment" (as an actor friend likes to say) in front of a TV camera presented itself.  It's a basic tenet of anxiety:  expose yourself to your fears and they will calm down (avoid them and they grow stronger).
Yet after all the build-up (in my own mind) I was sent packing as the entire news hour stayed "live" on a slow-moving tow-truck.  I found myself laughing in my car in stopped traffic:  I had been afraid that I would suck, but it's hard to be much worse than a slow-moving tow-truck.  And besides, now I knew my way around the studio—where the parking was, the elevator, the hallways and the green room—the sorts of things that might make me just a little less nervous upon my return.
I couldn't get David Byrne and the Talking Heads out of my head:
Television man made me what I am
People like to put the television down
But we are just good friends
(I'm a) television man
As I drove home, untried and untested, I thought about another green room, the one at Lincoln Center.  I'd been parked in there one time, waiting for a friend when someone entered and started to meticulously place a row of Interview Magazines on the coffee table.  It was Andy Warhol.
*
It's Thursday and I'm back, sitting in the newsroom, off camera and hanging with the anchors, enjoying the banter and the bustle.  William Shatner is talking about horses.
I'm at the very end of the line-up, and vaguely wondering if I'll get killed again, when a news flash about Ryan Seacrest's recent bout of vomiting is reported to television land and I find myself trying not to think too much about the two bags of IV fluid he received.  That seems to add up to a lot of vomit.
The sand of time is ebbing out of the news hourglass as I'm watching another doctor get interviewed.  My view from behind the news cam is of an ominous black box, which is opened and out comes a skull.  Alas poor Yorick, apparently he had a weak chin—but silicon implants shall do nicely.
Suddenly it's my turn and I don't feel nervous, I feel lucky to have a chance to talk about helping parents and kids.
My Warhol fifteen minutes, trimmed down to three minutes on a Thursday in late April, gets shaved closer to two minutes.  And then it's done.
Everyone in the newsroom is terribly nice, saying I did well.  Once upon a time I directed a TV episode and the producer assured me that it wouldn't lead to anything.  Little did he know that one day I'd be in front of the camera—for two minutes.
And suddenly I was in my car, and traffic was moving, and I was greatly relieved.  An NPR story came on, all about Andy Warhol's abstract work from the 80's, the very years when I saw him in the green room, work the critics didn't much care for.
And then I was home and my kids were fighting.  I tried to counsel compassion and one of them said, "You're trying to be the hero—you go on TV as a parenting expert and now you think we shouldn't be fighting."
I said, "That's a low blow.  You guys always fight, but it's not because I went on TV."  They did apologize to each other and that was sweet.  It was nice to finally be in bed with my kindle, and I could hardly send a Words with Friends offering to my friend in New York before drifting off.
Television man…I've got what you need
We are still good friends…I know the way you are
Television man…I know what you're tryin' to be
Watchin' everything…and I gotta say
That's how the story ends.